Holidays to Follonica
Of particular interest:

Church of San Leopoldo, in the center of Follonica, was consecrated in 1838 and designed by Alessandro Manetti and Carlo Reishammer. It is the only Italian church with pediment in cast iron (more precisely, the porch, the rose window and the apse).

The former ILVA area is a site of archaeological interest in the Technology Park of the metalliferous hills of Grosseto. Follonica is in fact one of the seven municipalities that make up the Technology Park Archaeological Metalliferous Hills of Grosseto. The institutional aims of the Park relate to the recovery, preservation and enhancement of the environmental, historical, cultural and scientific-technical Metalliferous Hills, marked in particular by the experience mining. The door of the Park, which is the welcome center and information within the town of Follonica, is located at the Museum of Iron and cast iron.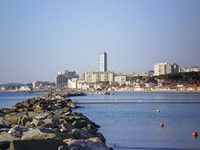 All nearby places

Bolgheri, Campiglia Marittima, Donoratico, Follonica, Piombino, Populonia, San Vincenzo, Venturina,
Contact us directly
0565 701204

335 434595

info@villaliberty.net